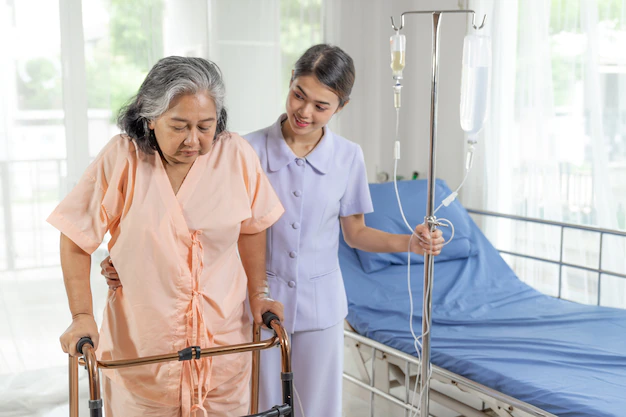 BSc Nursing
The B.Sc. Nursing degree program is a four-year fulltime program comprising eight semesters. The program adopts credit system and semester system which encompasses foundational, core and elective courses. Students are provided with opportunities to learn a whole range of skills in addition to acquiring knowledge related to nursing practice. Simulation will be integrated throughout the curriculum wherever feasible to enable them to develop competencies before entry into real field of practice.
ADMISSION TERMS AND CONDITIONS
1.The minimum age for admission shall be 17 years on 31st December of the year in which admission is sought. The maximum age limit for admission shall be 35 years.
2.Minimum Educational Qualification
a) Candidate with Science who have passed the qualifying 12th Standard examination (10+2) and must have obtained a minimum of 45% marks in Physics, Chemistry and Biology taken together and passed in English individually.
b) Candidates are also eligible from State Open School recognized by State Government and National Institute of Open School (NIOS) recognized by Central Government having Science subjects and English only.
c) English is a compulsory subject in 10+2 for being eligible for admission to B.Sc. (Nursing).
3. Colour blind candidates are eligible provided that colour corrective contact lens and spectacles are worn by such candidates.
4. Candidate shall be medically fit.
5.. Married candidates are also eligible for admission.
6.Students shall be admitted once in a year.
7.Selection of candidates should be based on the merit of the entrance examination. Entrance test** shall comprise of:
a) Aptitude for Nursing  : 20 marks
b) Physics :  20 marks
c) Chemistry  : 20 marks
d) Biology  : 20 marks
e) English : 20 marks
Minimum qualifying marks for entrance test shall be 50% marks.
**Entrance test shall be conducted by University/State Government.
8. Reservation Policy
Reservation of seats for admission in Nursing Colleges for SC/ST/OBC/EWSs/PH
Admission under the reserved quota shall be subject to reservation policy and eligibility criteria for SC/ST/OBC/EWSs prescribed by the Central Govt./State Govt./Union Territory as applicable to the College concerned.
In respect of candidates belonging to SC/ST/OBC the marks obtained in 3 core subjects shall be 40% instead of 45% for General category candidates.
Reservation for disability
5% Disability reservation to be considered for disabled candidates with a disability of loco-motor to the tune of 40% to 50% of the lower extremity and other eligibility criteria with regard to qualification will be same as prescribed for General category candidates. The upper age limit shall be relaxed by 5 years for disabled candidates.
Note: A committee to be formed consisting of medical officer authorized by medical board of State government and a nursing expert in the panel which may decide whether the candidates have the disability of loco-motor to the tune of 40% to 50%.
Note:
Reservations shall be applicable within the sanctioned number of the seats.
The start of the semester shall be 1st August every year.
No admission after the cut-off date i.e. 30th September will be undertaken. Further Hall Tickets/Admit Card shall not be issued to the candidates who are admitted after 30th September.
The responsibility of obtaining and verifying the requisite documents for admission lies with the Institution and University.
9). Foreign Nationals:
The entry qualification equivalency i.e., 12th standard will be obtained by Association of Indian Universities, New Delhi. Institution, SNRC and University will be responsible to ensure that the qualification and eligibility will be equivalent to what has been prescribed by the Council.
Course Outline
1st Semester
Communicative English
Applied Anatomy
Applied Physiology
Applied Sociology
Applied Psychology
*Nursing Foundations I
Mandatory Module
*First Aid as part of Nursing Foundation I Course
2nd Semester
 Applied Biochemistry
Applied Nutrition and Dietetics
Nursing Foundations II
Health/Nursing Informatics & Technology
Mandatory Module
Health Assessment as part of Nursing Foundation II Course
3rd Semester
 Applied Microbiology and Infection Control including Safety
Pharmacology I
Pathology I
*Adult Health (Medical Surgical) Nursing I with integrated pathophysiology
Mandatory Module
*BCLS as part of Adult Health Nursing I
4th Semester
*Pharmacology II
Pathology II & Genetics
Adult Health Nursing II with integrated pathophysiology including Geriatric Nursing
 Professionalism, Professional Values & Ethics including Bioethics
Mandatory Module
Fundamentals of Prescribing under Pharmacology II
Palliative care module under Adult Health Nursing II
5th Semester
*Child Health Nursing I
Mental Health Nursing I
Community Health Nursing I (including Environmental Science & Epidemiology)
Educational Technology/Nursing Education
Introduction to Forensic Nursing and Indian Laws
Mandatory Module
*Essential Newborn Care (ENBC), Facility Based Newborn Care (FBNBC), IMNCI and PLS as part of Child Health Nursing
6th Semester
Child Health Nursing II
Mental Health Nursing II
Nursing Management & Leadership
Midwifery/Obstetrics and Gynecology (OBG) Nursing I
Mandatory Module
SBA Module under OBG Nursing I/II (VI/VII Semester)
7th Semester
Community Health Nursing II
Nursing Research & Statistics
Midwifery/Obstetrics and Gynecology (OBG) Nursing II
Mandatory Module
*Safe delivery app under OBG Nursing I/II (VI/VII Semester)
8th Semester
Internship (Intensive Practicum/Residency Posting)